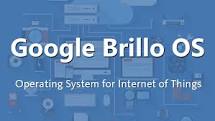 Internet of things platform war is on! Every day some interesting stories are coming. The wind of acquisition of companies dating with IoT technologies is blowing like never before. Companies are breaking acquisition news every day. Now the biggest news is that Google Brillo OS is in. If the war is on for the biggest battle in the technology, then how can we expect Google to be SILENT!
It has thrown the deadliest weapon from its armory to calm down its opponents. Finally after a long wait, veil is off from Project Brillo Google. At Google I/O 2015 Google broke the news.
What is Brillo?



If you are interested to know what does Brillo mean, just don't go into the dictionary meaning of Brillo! To end your search I will put that Google Brillo OS is an operating system from Google for internet of things devices. Google new OS Brillo is also being termed as the most secured. No doubt the propagator of Google Brillo OS is Android. But it has been glazed further to fit the lower levels.
The biggest advantage of Google IoT OS Brillo is that it can work on very energy. Further, Google Brillo OS can be integrated with even any basic hardware. For making any IoT solution for micro IoT devices, Google Brillo OS is a wonderful platform.
Brillo by Google will operate on a consolidated system. Things will be centrally managed through Google Cloud. Not to mention that for connectivity issues Google brillo operating system works in tandem with Wi-Fi Technology, Bluetooth low Energy and other components of Android.  The thing which is worth talking is Google brillo security aspects. Security has been on the top most priority while designing Google Brillo Operating System.
What is Google Brillo Weave?
We all know that the foremost basic requirement of IoT Platforms is to enable the devices in the network to communicate with others. This requirement has been excellently addressed by Google in carving out Google Internet of Things Brillo.
Well when we are talking about inter-communication of IoT devices, it becomes more compulsory to talk about Google Brillo Weave! No doubt that the concept of internet of things technology to enable the online devices in the network to chat with each other is a beautiful concept. But for chatting they should understand each other's language. So a COMMON LANGUAGE should be there. GOOGLE IoT WEAVE is that common language! The communicating power of Weave goes far beyond the limits of Google Brillo OS. It is cross platform and can work with other operating systems too.
The assimilation of Android,  Google Brillo OS and Weave is interesting too. It is said that android devices will automatically detect devices running Google Brillo and Weave.
The dream for connected world will come true only, when the devices are open to other platforms and they communicate with each other irrespective of the fact that they belong to which brand.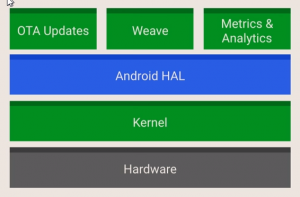 Security features, basic requirements of Google Brillo OS



Main target of Brillo is home automation & health monitoring devices. But it can also extend to smart buildings and industrial environment.
Support MPU devices w/ min 35 MB of RAM.
Requires C/C++ environment for development
Binder IPC
Verified / secured boot
Data encryption
OTA (Over-the-Air) updates
Collects crash reports
HW Keymaster 1.0
SE – LINUX Environment
Hardware options-ARM, Compatible boards, Intelx86,
How to start with Google Brillo OS?
Brillo is a brilliant byproduct of lower levels of Android OS and the smart portions of Google Chrome OS. As the sole target of Google Brillo OS has been to keep it light weight, core applications and framework like java support are all missing in Brillo.  Even native and runtime services have also been cut. But still for developers it does offer a group of core services, in-built Weave Support, crash reporting, metrics and over-the-air updates. As I wrote earlier, security was the prime focus while developing Google operating system. So it provides multiple features revolving around security as security is the main consideration while building apps for internet of things devices.
You can start with Brillo from Android open source project (AOSP) . Alternatively you can also send an invite request to closed beta to see documentation and download Brillo pre-built development kit (BDK).
With the BDK in your hand, you can start development in C/ C++ languages, using a PC running Ubuntu 14.0 or higher version. As far as Google Brillo OS hardware requirements are concerned then well you have two options currently:
Dragon Board 410
Intel Edison Board
How to get started with Weave?



Weave is used to track new devices and synchronize them into the network, link the devices with the Google account for authentication purpose. Weave can also be used to send commands to guide the devices.  As I mentioned above Weave is inbuilt in Brillo. But as Weave is a communicating protocol and not just limited to Google Brillo OS, developers may want to use it with other applications.
Nothing to get worry- Google has simplified the things for you. It has already made Weave libraries for iOS, Python, Java and Android to enable your mobile or webs to communicate smoothly with the devices.
You can send a request for these Libraries and concerned documentation by accessing Google's Weave Beta Program.
Final Call on Brillo & Weave
While the entire scenario in the internet of things are still at a nascent stage but at the same time full marks should be given to Google for coming out with such an amazing light weight OS like Brillo & Weave protocol. No doubt Brillo OS & Weave both together will have a BIG say in running the things faster and faster for internet of things. I won't be wrong if I say, that in the coming years, these two are going to be the most downloaded IoT platforms.
With the exploding market of IoT, depositing these two latest IoT technologies in your TECH BANK will prove to be the most turning points in your life.
As I wrote above IoT is still evolving. New, new developments are happing every day. New technologies are being introduced. Features in existing ones are getting enhanced. But don't worry, I will keep you updated with whatever changes and updates that will happen in the future.
Stay tuned with iotfunda.com for the latest updates for Google Brillo OS and news breaking in the internet of things world!