Readers, You all are Welcome back to my blog! First of all I want to say SORRY for coming so late with this Post. Abruptly I got busy with some other tasks.  Anyway, finally we are here to discuss something about Project Tango Google.
Google and high end technologies have almost become synonymous. From self driving cars to helium- filled balloons; it's the Google which comes out with all the adventures. Latest feather in its caps is Tango. The conception of it happened years ago. Finally it is out of the womb after years of nurturing. Tango is a very highly advertised project by Google.
LENOVO PHAB2 PRO
World's first Tango enabled Smartphone, has finally hit the market. The curiosity for it, is at its epitome nowadays. Everyday new- new stories are being brewed up. Lot of hype has been built around it. Lot of promises has been made around it! More than anything it's the reputation and claims of Google about which people are discussing within secret IT Corridors!
In between the secret stories, deep discussions, hypes and the realities surrounding Google Tango, there are some obvious questions which everybody wants to know. Such as;
What is Google Tango?
What are the adventures that we can do with it?
What Google Tango is serving you right now?
How much time it will take for Google to deliver Tango in such a form so that it comes near to its imagination.
What are the devices that support Google Tango?
UNFOLDING  THE REALITIES & HYPES SURROUNDING GOOGLE TANGO




No doubt AR and VR are the two main pillars of tango.  But there is something greater than this. It's about creating an imaginary world in the background of Real world, placing virtual objects into real life atmosphere, interacting with the virtual objects in real atmosphere along with Real objects and experiencing the unimaginable happening!
What is Augmented Reality?
Before we try to find out exactly what is Tango Technology, lets us talk something about Augmented Reality. As without AR, Tango can't attain its desired state! If we go into the dictionary meaning of the word 'Augmented' then it's the 'extra' or something more than the normal. So what 'Augmented' is doing in the field of technology?
To define it in the simplest way, Augmented Reality is giving users tools to realize something more than what exists in real. We can say that it is the enhanced form of reality. When 'Virtual Reality' and 'Real World' are intermixed intelligently, it takes the form of 'Augmented Reality'. It's a new way of seeing the world or you can say that the view of reality has been elevated in Augmented Reality.
Tango is Google's biggest step towards Augmented and Virtual Reality.
What is Tango Technology?
"It's a latest technology platform from Google that empowers the physical objects along with virtual ones to see and analyze the world around them exactly in the same way as humans do with the help of computer vision."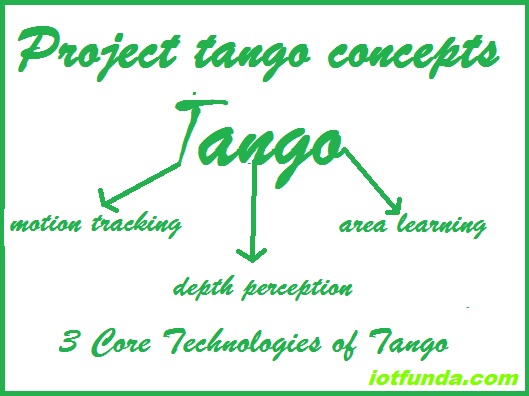 Motion Detection
Area learning
Depth Sensing
It's the conviviality of custom built sensors and processors that links different sources of data and give the required vision to the devices in picture to understand the things as humans see. 90% of what Google Tango is offering today is based on motion detection. The camaraderie of motion detection technology along with motion detection camera, gyroscope, 3D Depth Sensor, barometer, accelerometer coupled with Google Tango enabled device gives you the required platform to make out exactly where that particular device is positioned. With help from Google Tango you can also find out the speed at which that particular device is moving as well as the directing towards which it is pointing.
The other two parts of tango technology i.e Area Learning and Depth Sensing, enables you to accurately make out the space into which you are moving. With its depth sensing feature while moving, you can also make out whether any upcoming objects coming in the path are small or large, close or far. With its help, you can also find out the underlying area between you and the upcoming object in the path. It will also provide you, other relevant information like size, and where that particular upcoming object in the path is exactly positioned.



Tango Technology: Understanding it with an Example
Suppose you are going to purchase your dream home. You want to place furniture, curtains, sofa, TV and other décor items like wall paintings into it which can exactly match your taste and accentuate the area in a real sense. But how you can make it without any error? We all know there is some gap between the virtual image and the real image. Some things which we think in our imagination don't come out to be true in reality.
So what you will do? What about if some technology platform enables to run a trail of the actual stuff that you want to place in your room and understand exactly what you should buy before you go for shopping? With the help of tango technology you can do that! With Google tango enabled phone, you can create a virtual view of your bedroom. You can go for multiple experiments with the paintings on the wall and find out which one suits best on which wall, in which direction. You can also make out which portion of your living room more is inviting for your future sofa! You can also experiment which color curtain suit best with the wall color. Means that you can virtually place the objects in your room and take the correct decision! This was just a small example! In fact tango can do many, many big things than this!
Tango: What are the adventures that you can do with it?
Google tango is being talked more about the kind of specific and accurate information or data that it renders which curves the future path for the judicious decision or action to be taken. It really gives you an amazing view of the future course of action that you can base on such information. The future view of the objects and its surrounding atmosphere in a specific position, in specific location is really mesmerizing! This is what is truly commendable about Tango!
The sensors used in project tango devices are so much advanced that you can automatically detect the surrounding atmosphere. You can virtually place the items in the scene and compare with the real life objects. You can place virtual cat on the mat underneath your coffee table in the virtual scene and see how she behaves! You can place multiple virtual character in the scene through their co-ordinates and enjoy its magical effect! Interesting thing is that you can also interact with those virtual characters!
Project Tango: What are the devices that are compatible with it?
The number of Tango enabled devices that I can present right now is only ONE, i.e LENOVO PHAB2 PRO. It's the first consumer focussed smartphone developed by Lenovo in partnership with Google, that has the power to demonstrate Tango Technology with maximum velocity with all its actions melodramas! It has been launched recently, one month back. Currently it is available at a price nothing less than USD 499$. At the time of writing this post,I am the one from those lucky ones who are holding it in their hands!
Phab2 Plus and Phab2 are two other smartphones of Lenovo that have hit the markets. With 13 mp camera, f/2.0 lenses, and instant focus, Phab2 Plus is more suitable for photography purposes. Although all the 3 phones of Lenovo under Phab flagship are featured with Augmented Reality Stuff, it's only Phab2 Pro that is properly Tango technology enabled.
When Tango technology was released 2 years back in June 2014 , Peanut phone and Yellowstone were the first two devices made available by Google to work with Tango as part of Tango SDK. It was primarily meant for researchers and developers community who were interested in dating with TANGO! With huge response from the developers, somewhere more than 3000 devices were sold off. There were some issues with them. Lot of apps were crashing in them. So it was pulled off from the market. Currently the link to buy them is disabled.
But then it happens with all the emerging technologies. It doesn't come in the final shape in one GO! Updates, advancements, perfection followed with consumer experience keeps on enhancing!
Specifications of Lenovo Phab2 Pro
Huge QHD Resolution( 1440 pixels x 2560 pixels)
6.4 inch Touch Screen display
4 GB RAM
1.8GHz octa- core Qualcomm Snapdragon 652 processor
16 mp RGB camera on the backside
Expandable 64 GB internal storage
8 mp camera on the front
Android 6.0 OS
4050 mAh fixed battery
Single SIM Smartphone
Barring temperature sensor, it is powered with a number of supporting sensors like Compass/ Magnetometer, Proximity sensor, Accelerometer, Ambient Light Sensor, Gyroscope, Barometer
What's coming next after Project Tango Google?
This was just an introductory post on Tango Technology. There are several detailed technical specifications pertaining to it. It is simply not possible for me to cover all, in this single post. There are several concepts of Tango Technology brimming into Virtual, and Augmented Reality. So I would like to base at least 2-3 of my future posts on Tango. First on;
How to Get Started with Project Tango?
Tango Vs Virtual Reality Vs Augmented Reality
What are the Technologies Required for Project Tango?




Guys, as I wrote above the development status of TANGO is still ACTIVE. So Enhancements, Changes and Updates are shaping much often. But nothing to worry! I will keep on coming with the latest additions in Tango Technology. So keep on coming to iotfunda.com
As usual, again here, I am going to take the liberty to request you all to share this post on FB, Linkedin, Twitter, Google+ and other social platforms as you may wish, if you find this post to be worth sharing. One kind gesture of your's will motivate me to write further!
Thanks for being with me!
Stay blessed!